Garmin Legacy Saga - REY Special Edition Smartwatch (*Free Leather Band + Silicon Band) Pre-order
Price

RM1,999.00

RM2,199.00

Product SKU
Garmin Legacy Saga - Rey
Brand
Garmin
Size (L x W x H)
15 cm x 15 cm x 15 cm
Availability
In Stock
Quantity
Description
Highlight
Includes premium materials influenced by your favorite rebel, a full suite of smart features and a character-inspired app experience
Features Jedi white elements and a silver bezel modeled after Rey's look and Anakin Skywalker's lightsaber details
Themed elements include Rey watch faces and goal animations plus specially designed Garmin Connect badges, avatars and insights to elevate the galactic experience
Packed with all the essential smartwatch features, including fitness and wellness tracking tools, smart notifications¹, music storage
Battery life: up to 7 days in smartwatch mode
Every detail of this one-of-a-kind smartwatch pays homage to the powerful young rebel, including the watch design and premium materials, smartwatch features and character-themed Garmin Connect experience.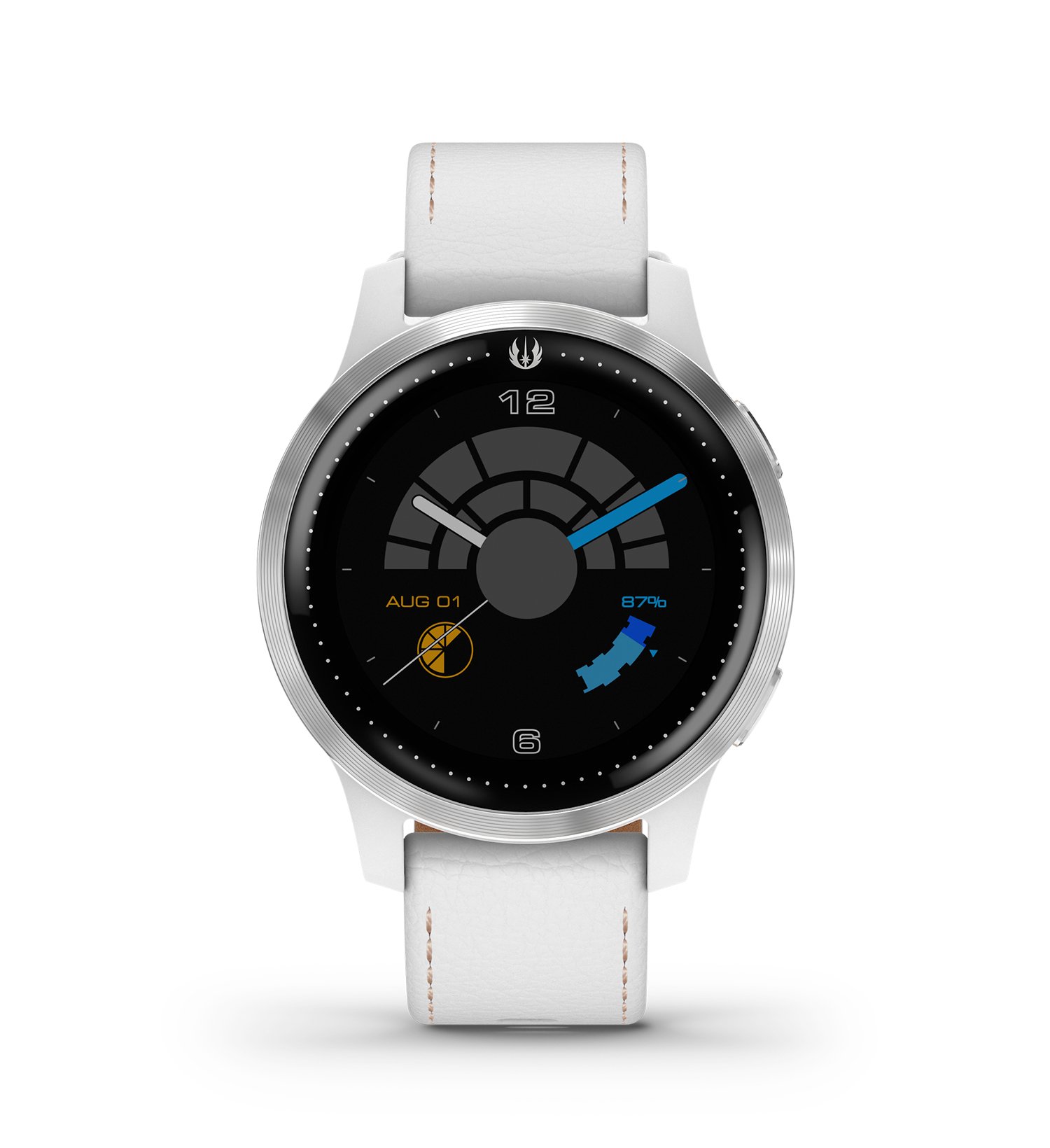 The design features the Jedi insignia and silver bezel, inspired by Rey's look and Anakin Skywalker's lightsaber details.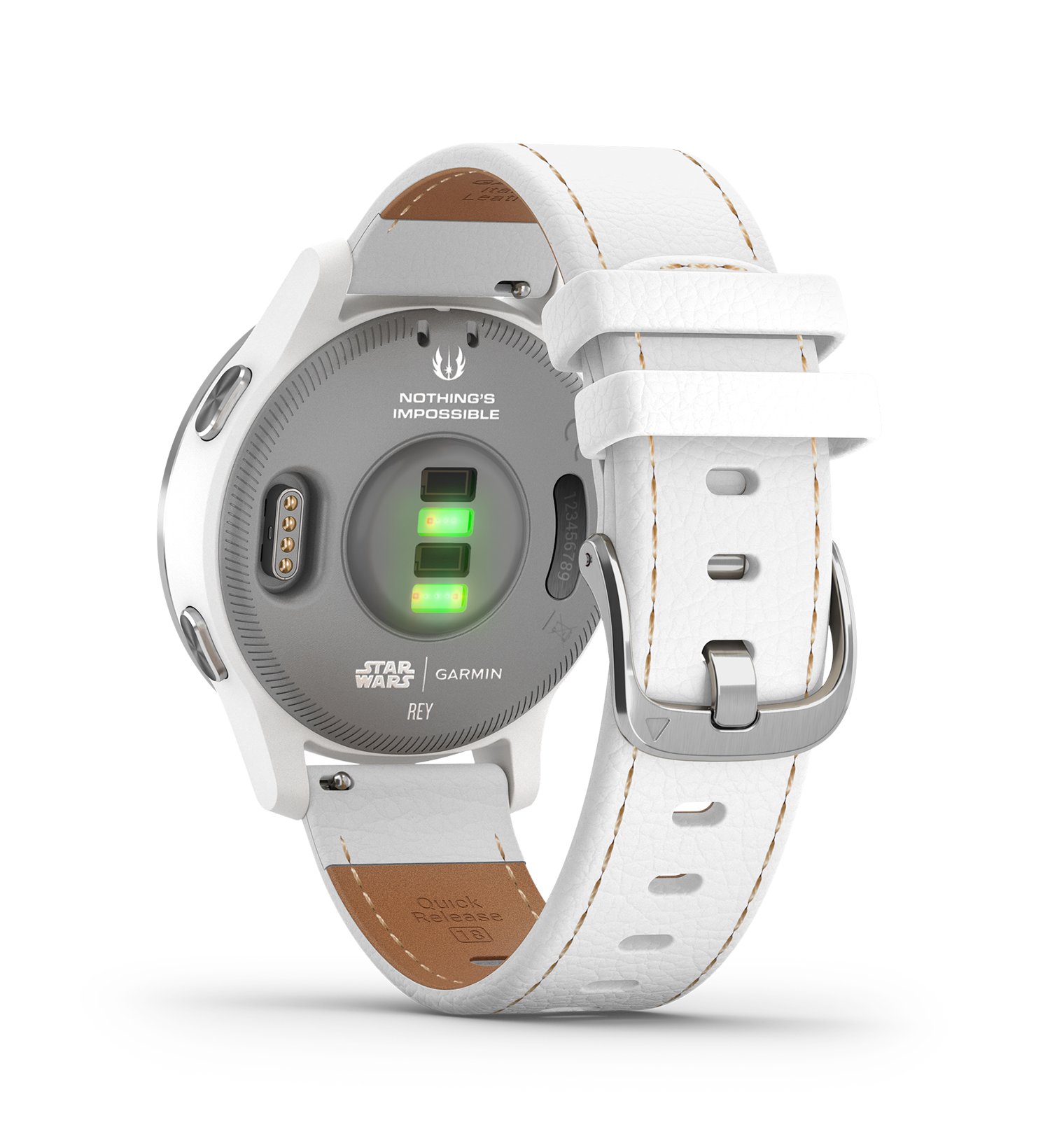 The case back of the watch is emblazoned with Rey's inspirational quote, "Nothing's impossible."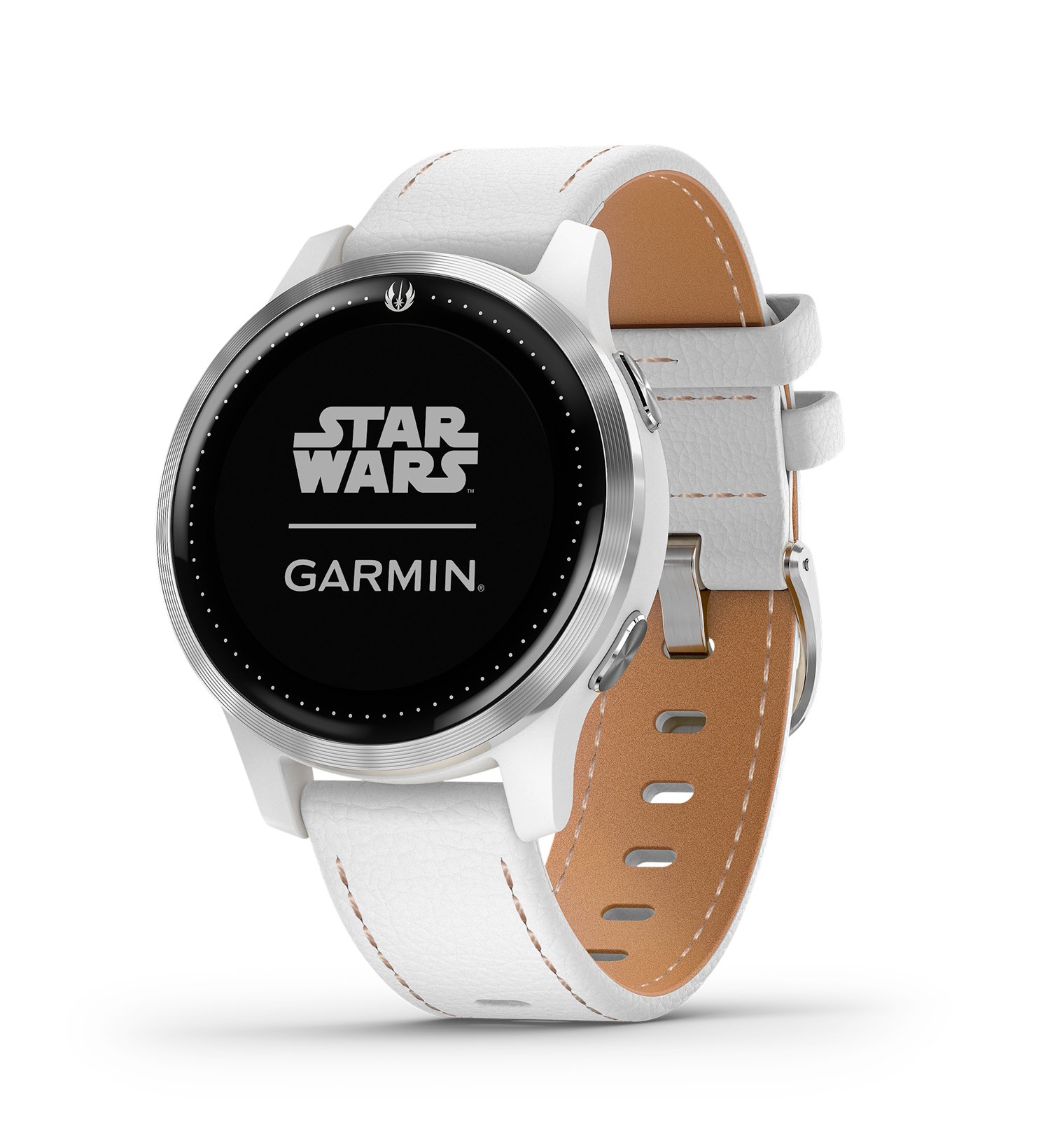 The premium Jedi Master white leatherband is modeled after Rey's iconicStar Wars: The Rise of Skywalkerlook.A white silicone band is included in the box.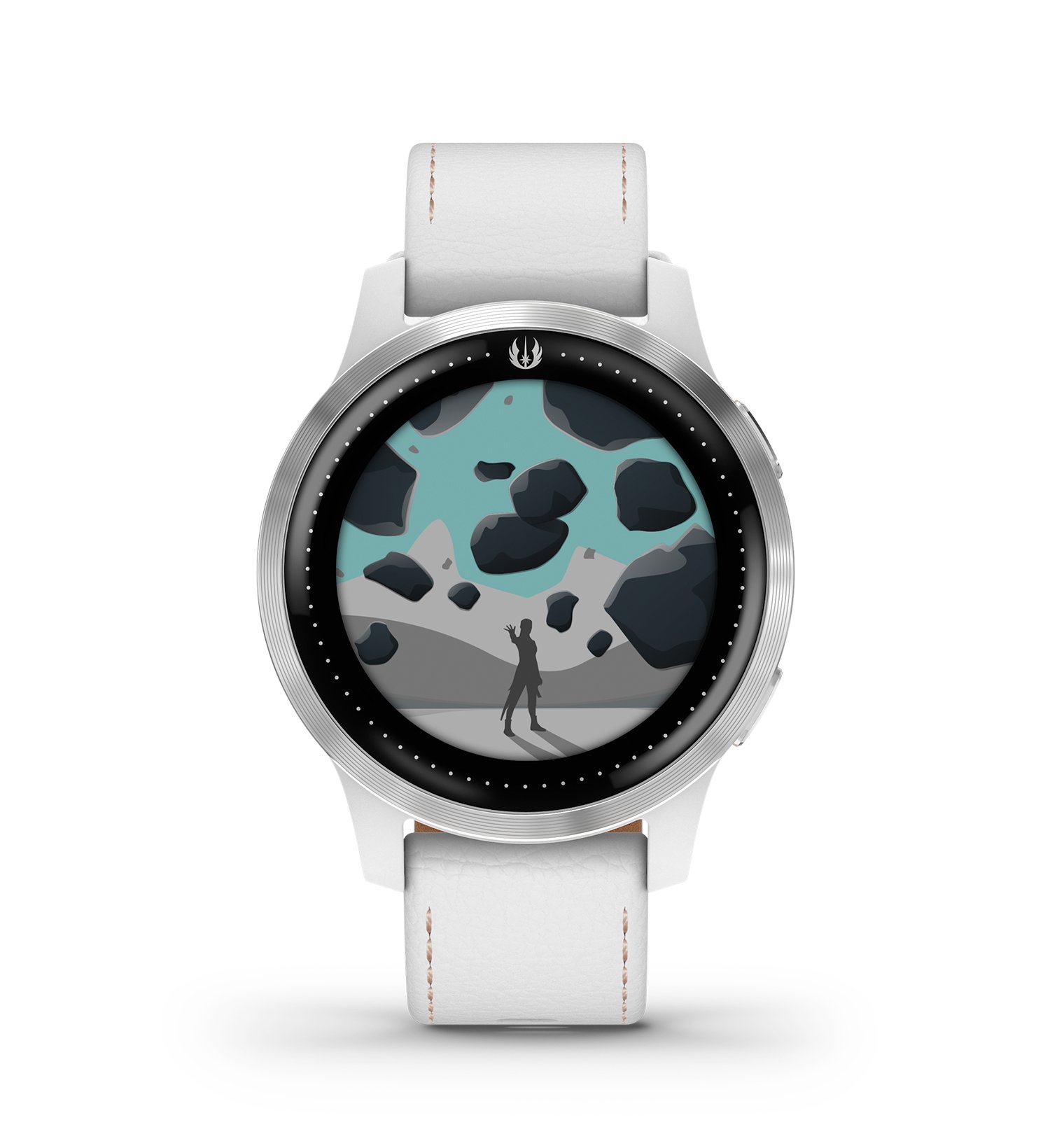 With exclusive watch faces and goal animations, you can wear Rey withpride on your wrist.

Rey-themed App Experience
The Garmin Connect app has received a unique, Jedi-inspired makeover that brings Rey to life. Character-influenced visuals enhance the experience, from the themed avatars you'll choose when you first set up your watch to the exclusive badges you can earn by completing fitness activities.
Smart Features Fit for a Resistance Rebel
Beyond the looks and the lore, this watch is packed with smart features for your convenience and enjoyment.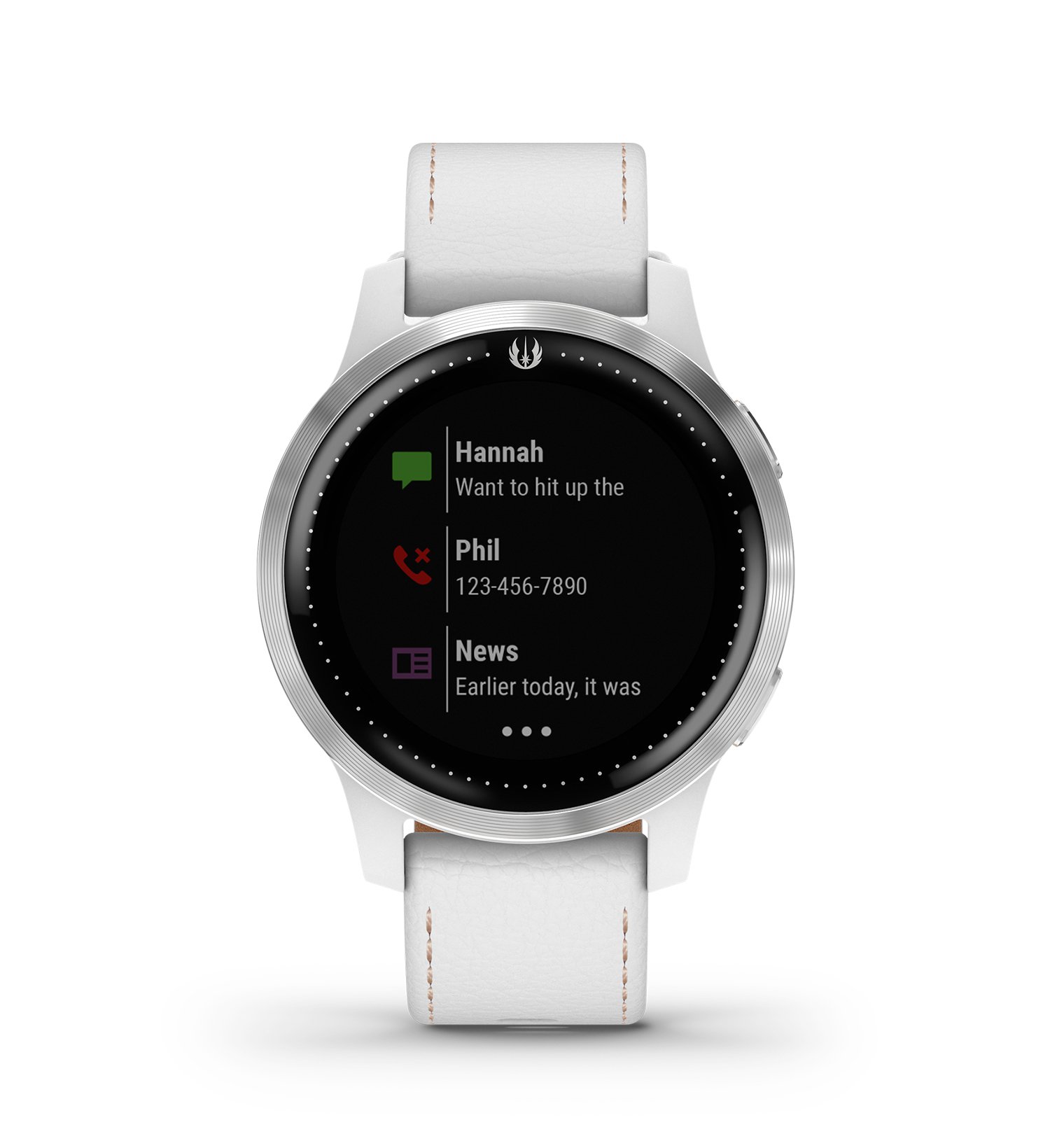 Receive emails, texts and alerts on your watch when paired with acompatible smartphone. You can even respond to texts if you have an Android™ smartphone.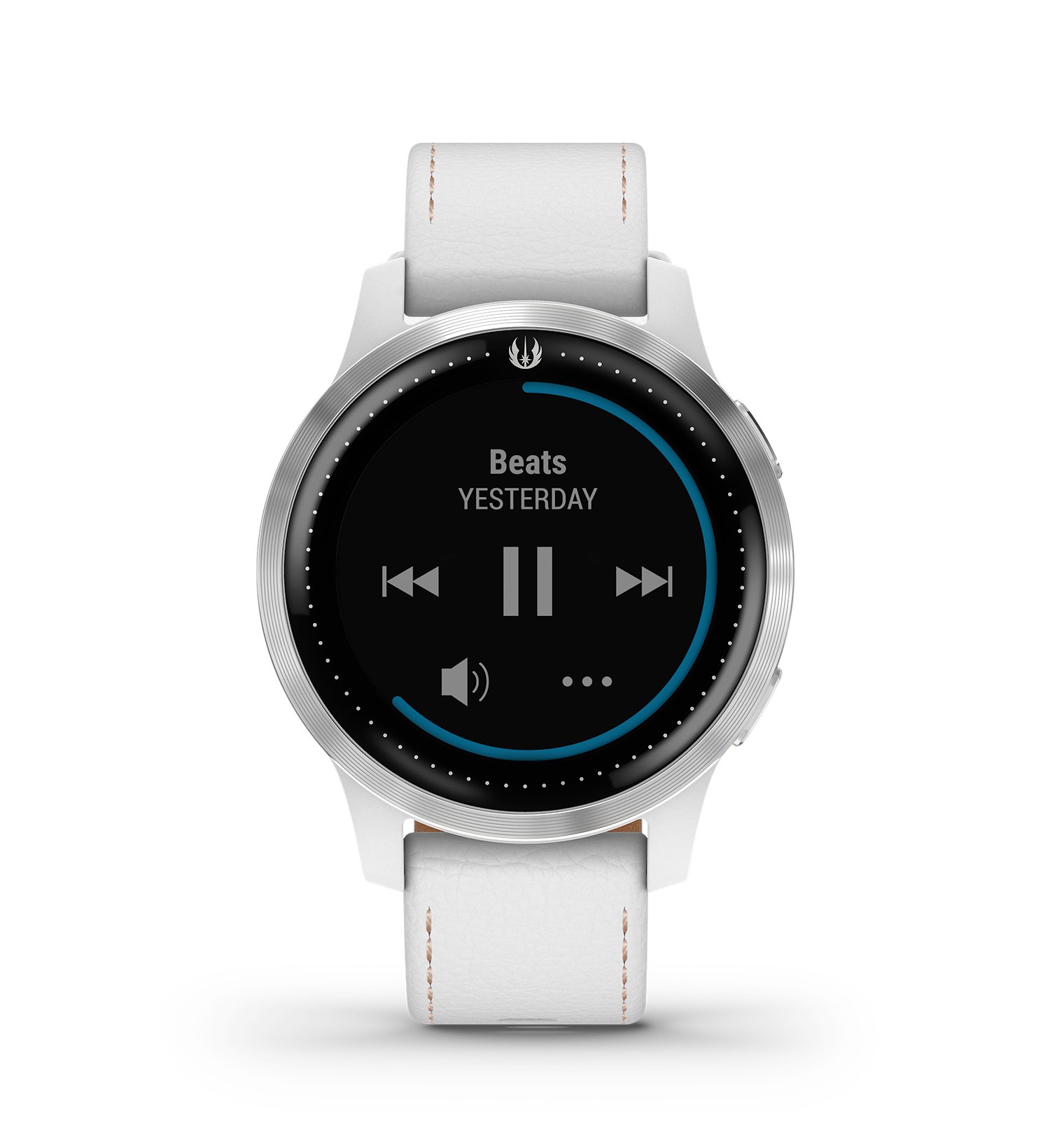 Easily download songs to your watch, including playlists from your Spotify®, Deezer account (subscription may be required). Connect with wireless headphones (sold separately) for phone-free listening.
Check out ourConnect IQ Store, where you can add personality to your watch by downloading apps, widgets, watch faces and more. It's easy and — even better — it's free.
Take Your Fitness to Another Galaxy
If your goal is to wake up feeling good enough to take on the First Order™, you'll love the detailed information and helpful insights you get from a broad range of all-day health monitoring features, built-in sports apps and workouts.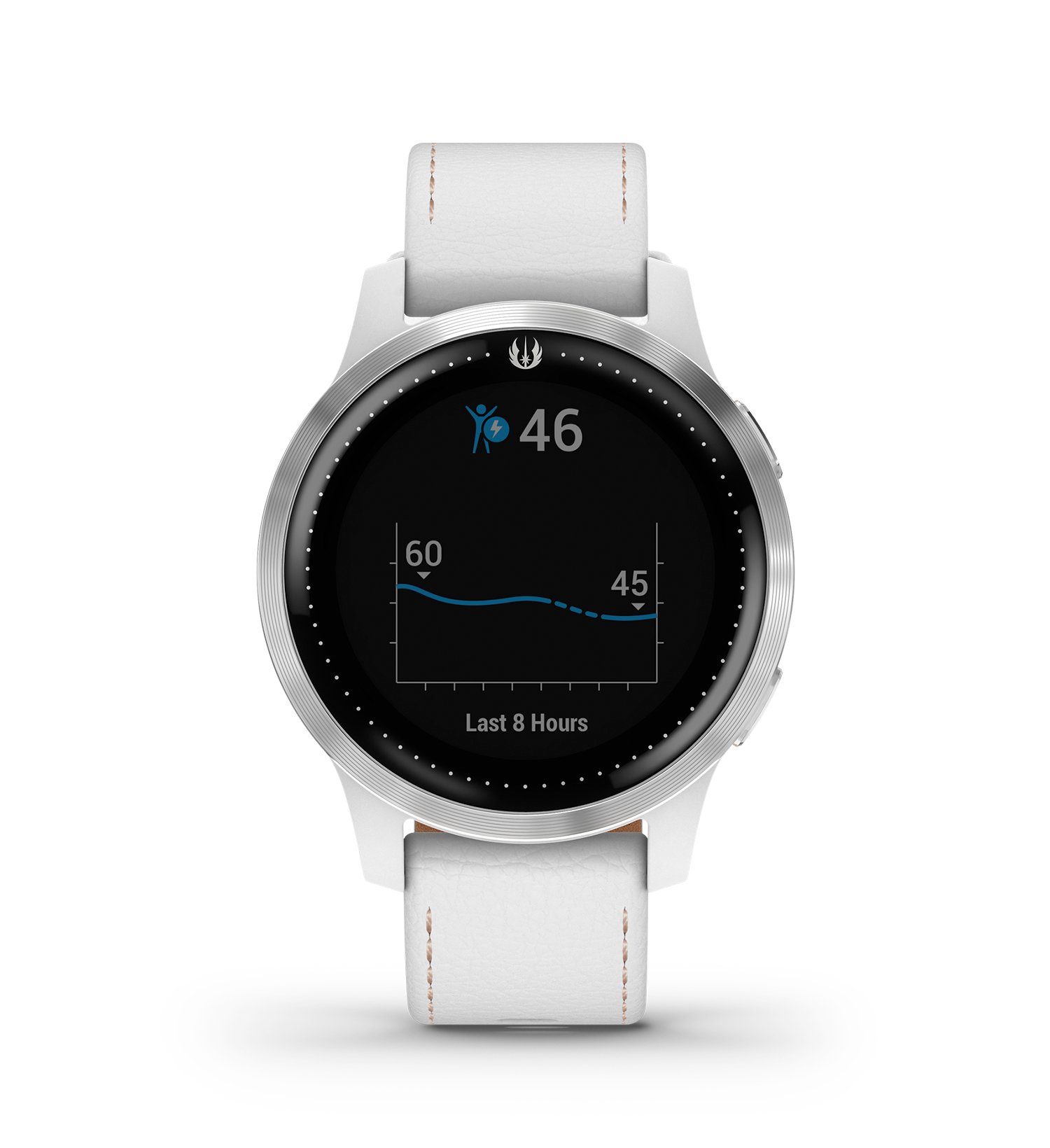 This featuremeasures your body's energy levels, so you can find the best times for activity and rest.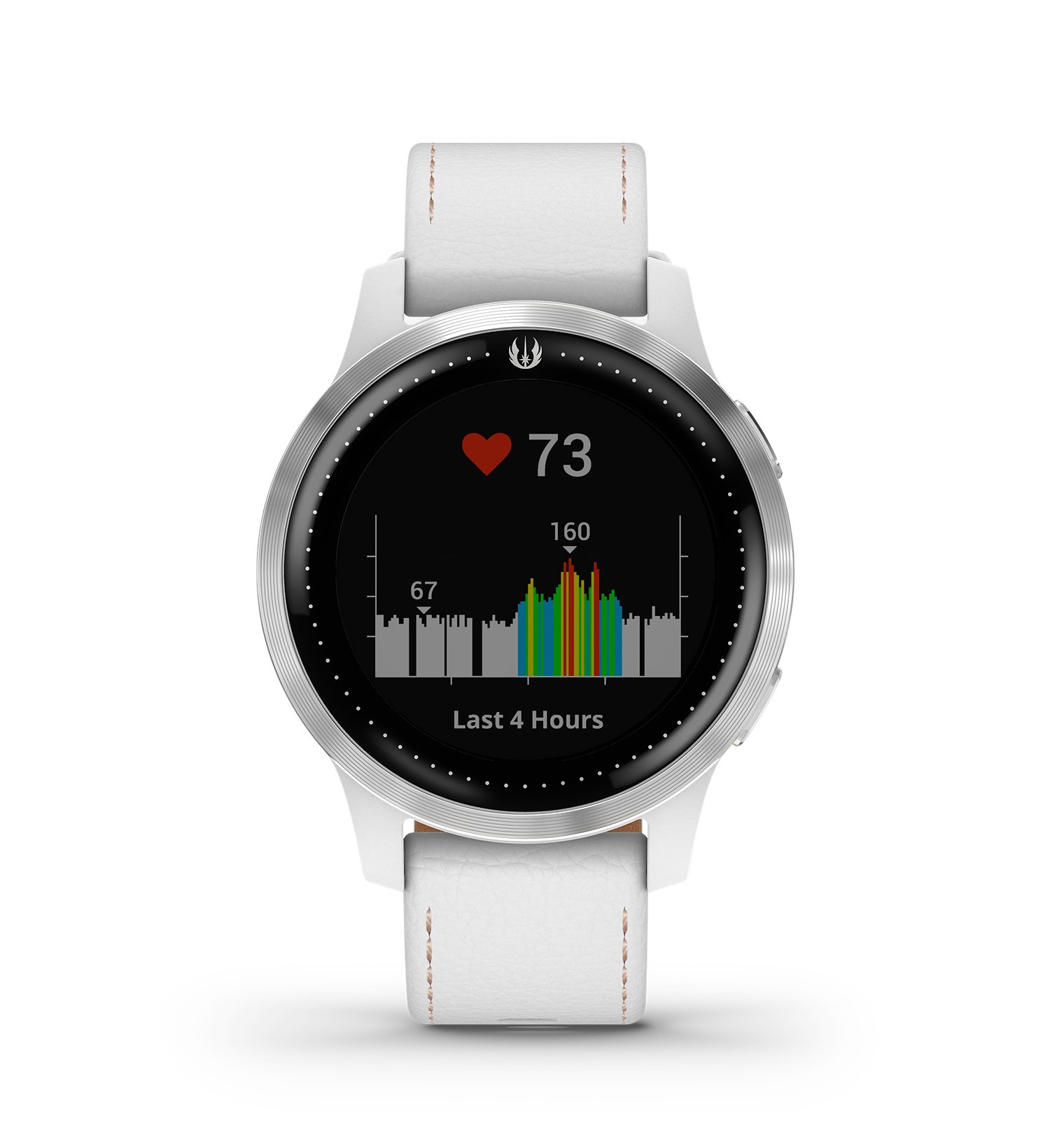 The smartwatch instantly samples your heart rate³ and will alert you if it stays high while you're at rest. It also helps gauge how hard you work during activities and displays your stress levels.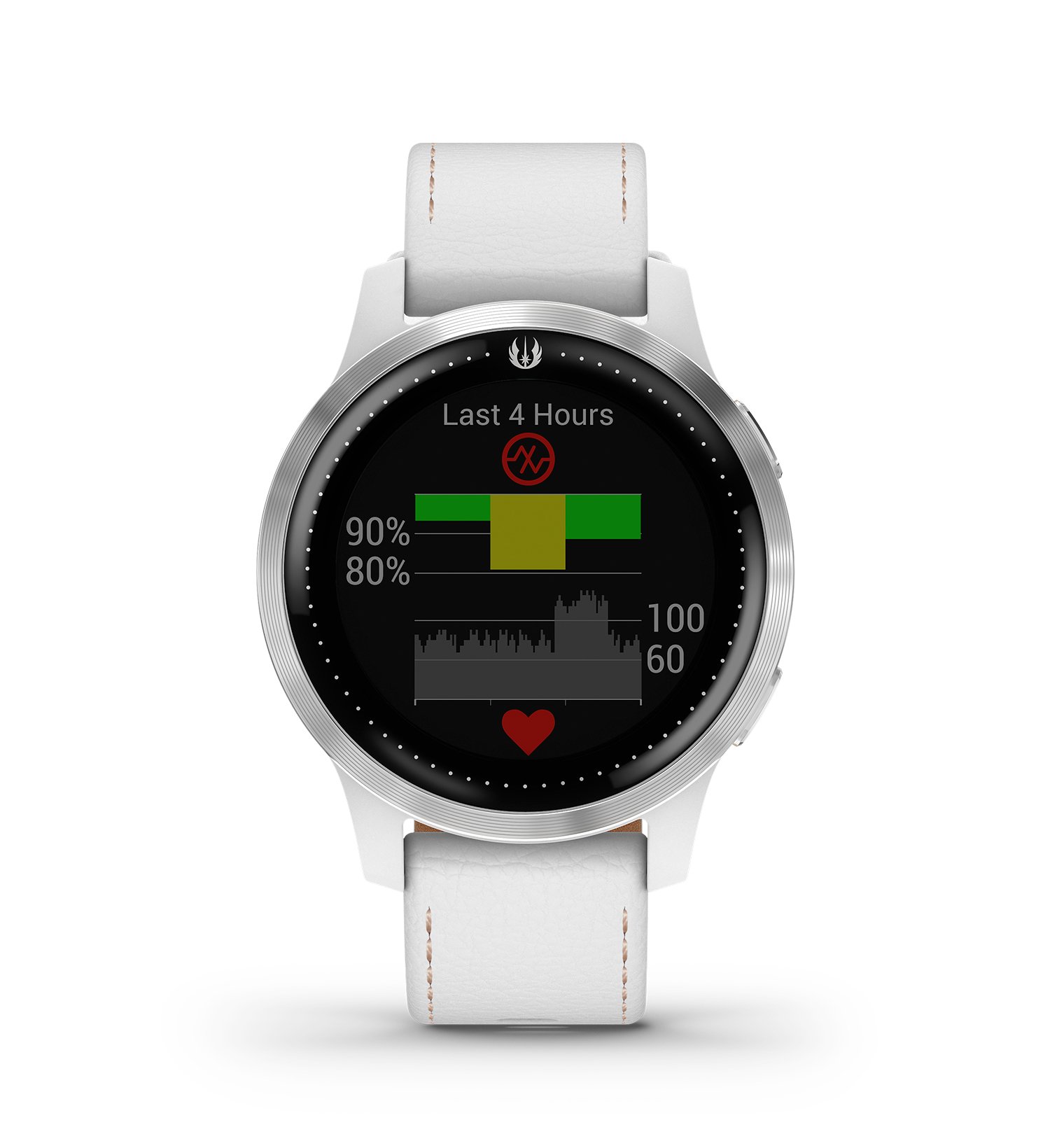 This built-in pulse ox sensor4gauges your blood oxygen saturation during the day and as you sleep to see how well your body is absorbing oxygen.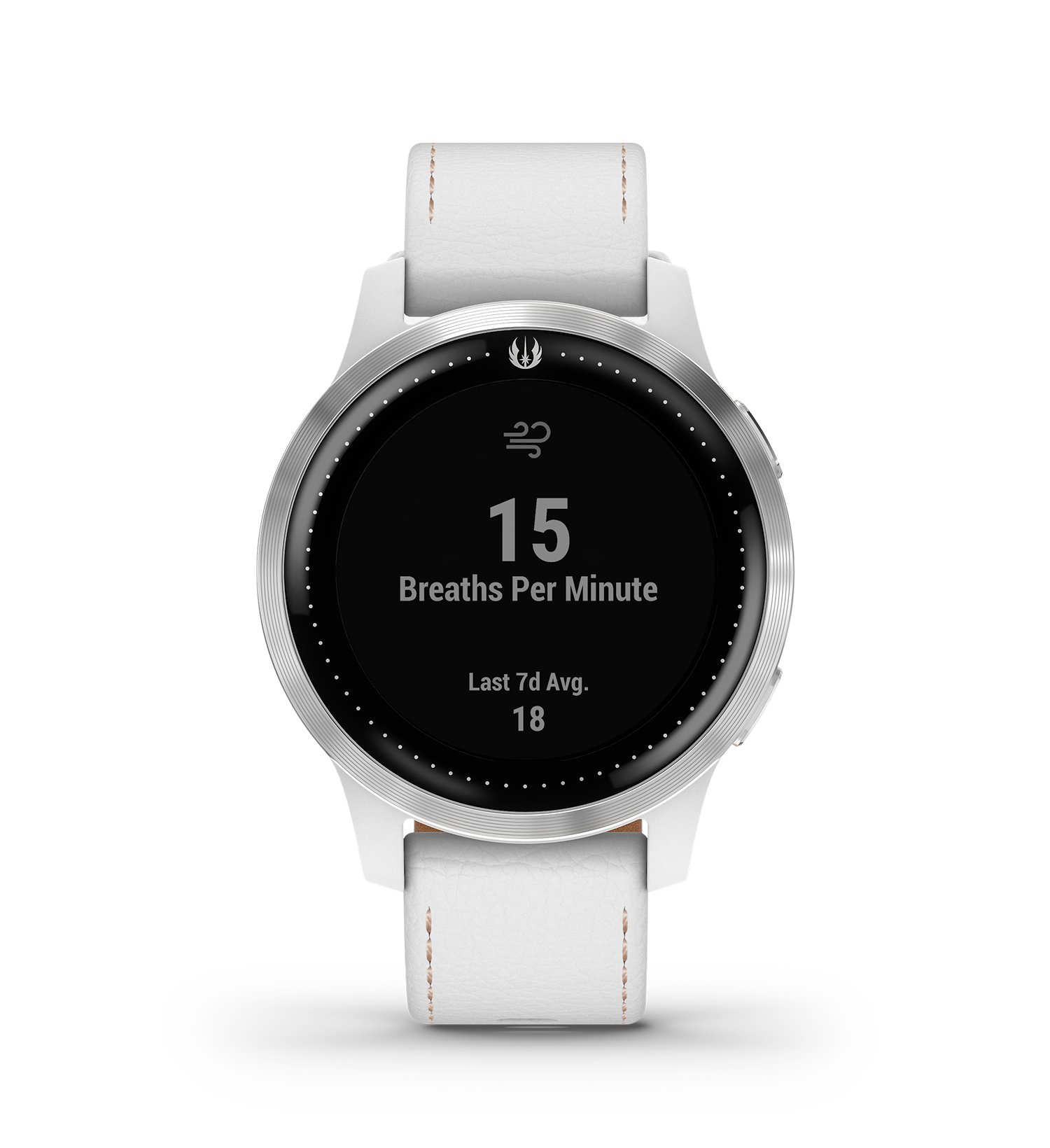 With this feature, the smartwatch records how you breathe throughout the day, during sleep and during breathwork and yoga activities.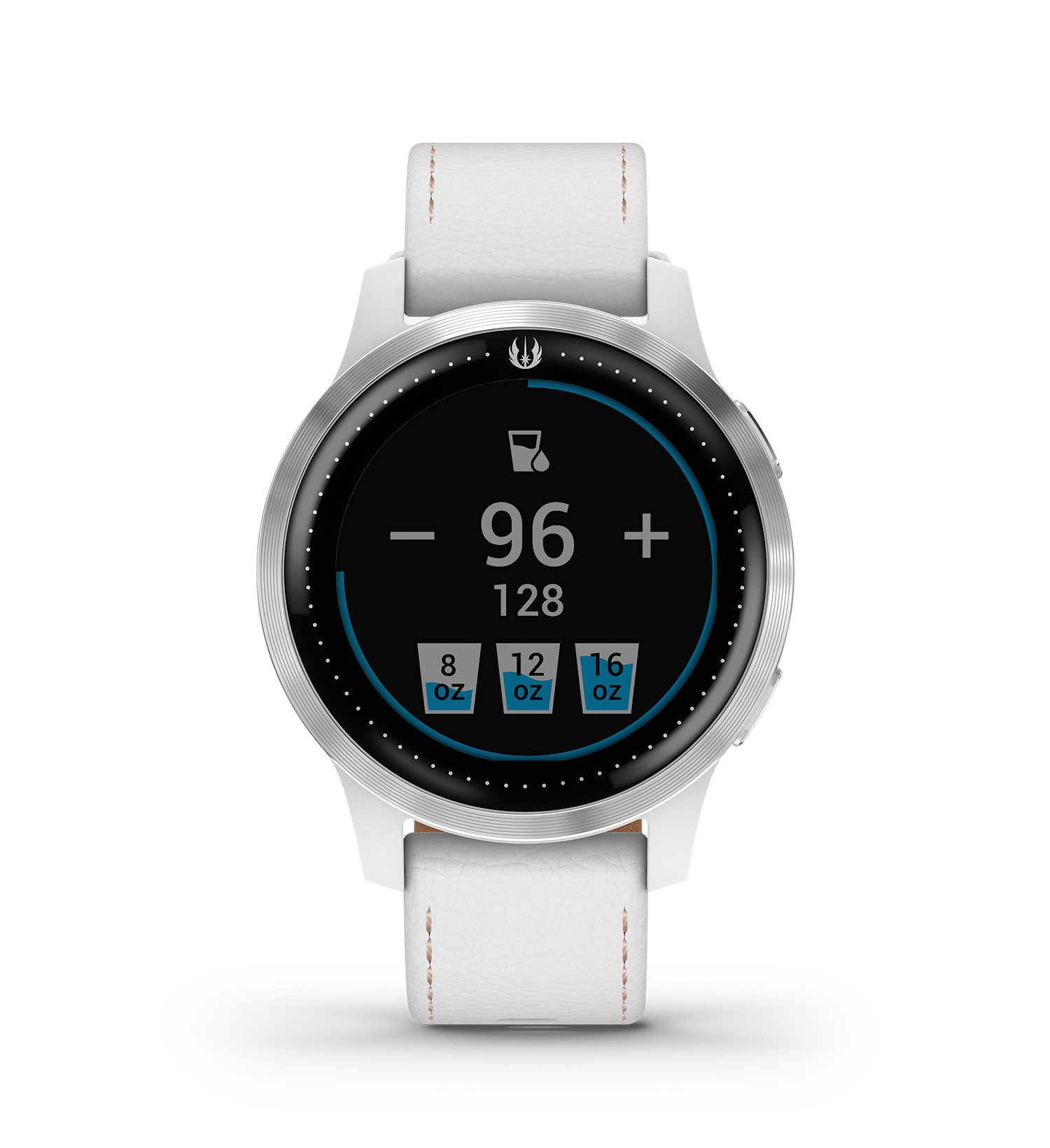 Log your daily water intake to help you stay hydrated.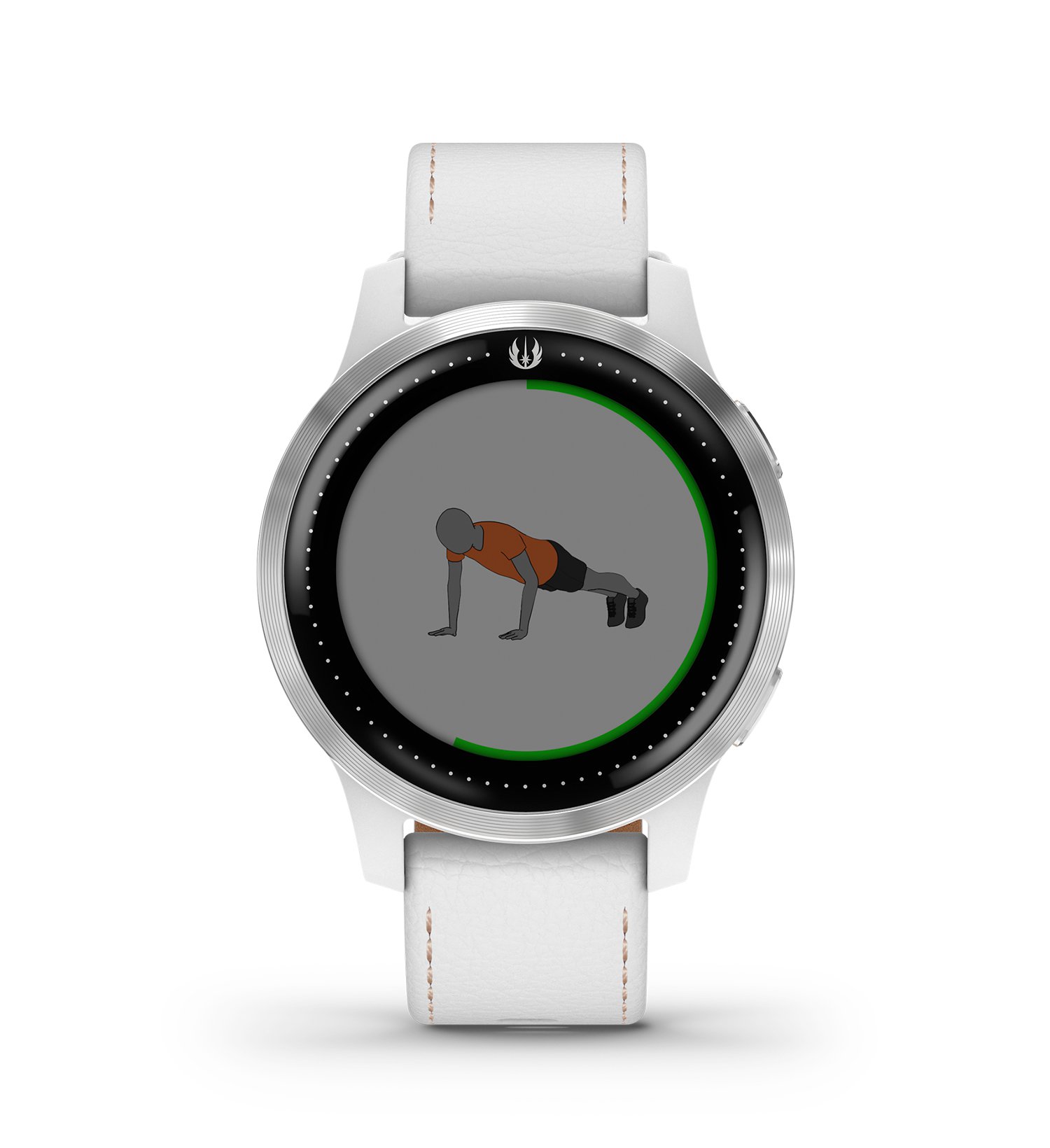 Access easy-to-follow, animated cardio, strength, yoga and Pilates workouts you can view on the watch screen. Choose from preloaded animated workouts, or download more from Garmin Connect.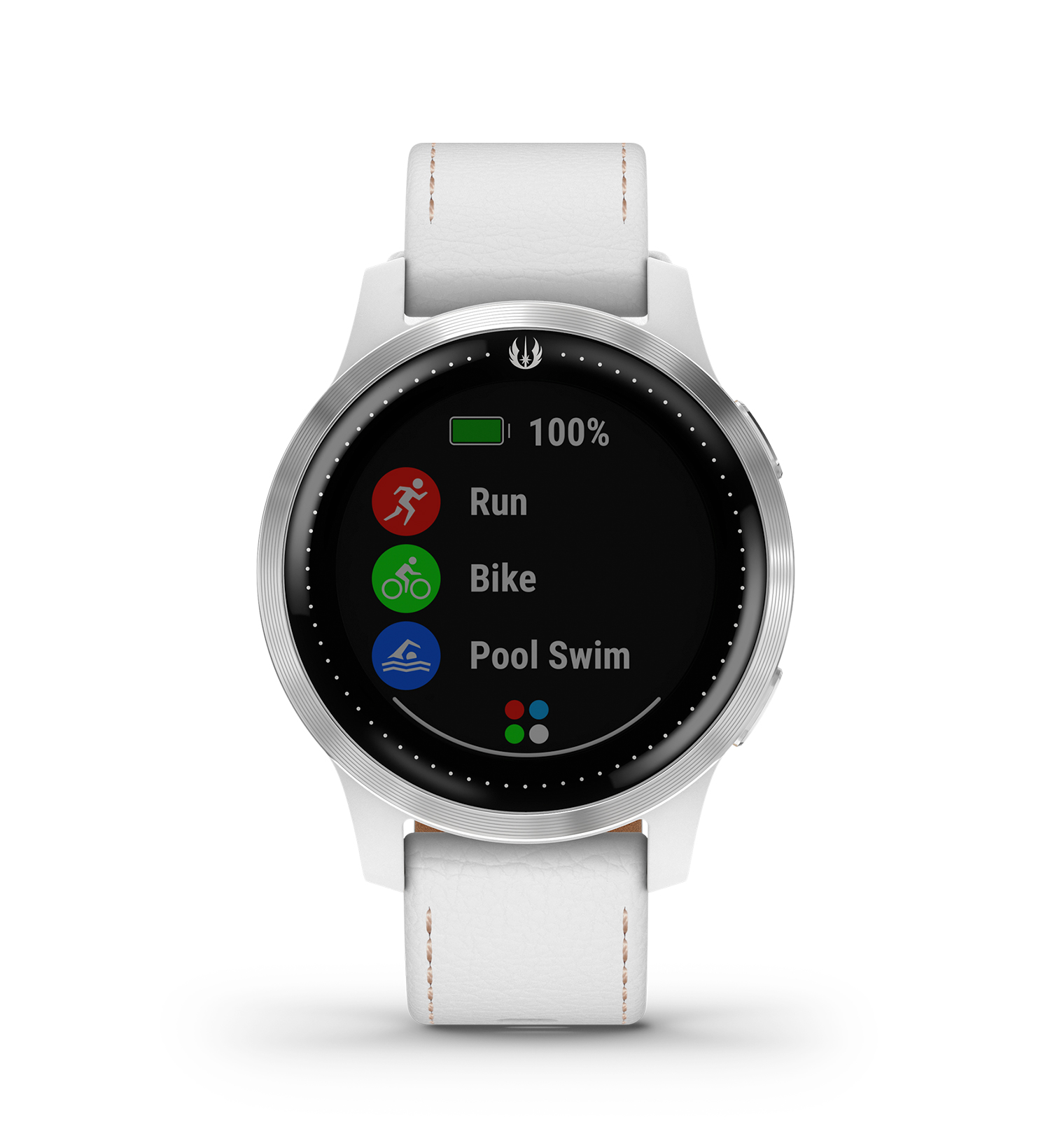 Choose frommore than 20 preloaded GPS and indoor activity profiles, including walking, running, cycling, pool swimming, golf and more. This watch can help you track all the ways you move as you embrace your destiny.
What's in the box
1 x Garmin Legacy Saga - Rey + Free Gift